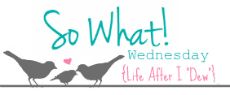 I'm linking up with Shannon from
Life After I "Dew"
for SO WHAT! Wednesday because it's already Wednesday. Can you believe it? Yea, me neither.
So what...
...I'm feeling uninspired with my posts lately. I've got a good chunk of drafts, but none of them feel publishing worthy.
...I'm having so much fun editing Jess' thesis. Can we say writing dork?
...I really enjoy eating tofu.
...I'm excited to make homemade pizza this week.
...I'm still on cloud nine that M is really here.
...if this text conversation made me so happy last night because
my physical home and my heart home are the same now.
What are you saying so what to on this lovely February hump day?